Lakeport Beach—A Place to Grow Up, A Place to Grow Old
published May 26th, 2022
Seniors face many threats to housing access as they age. These challenges include affordability, accessibility, the option to reside in a community that caters to their needs, and the option to stay in their community. The Township of Alnwick/Haldimand is not immune to these challenges.

Seniors in Alnwick/Haldimand
Across Ontario, 45% of the population is 45 years or older with the median age currently sitting at 41 years of age—in Alnwick/Haldimand a substantial 55% of the population is above the age 45, with the median age at 49.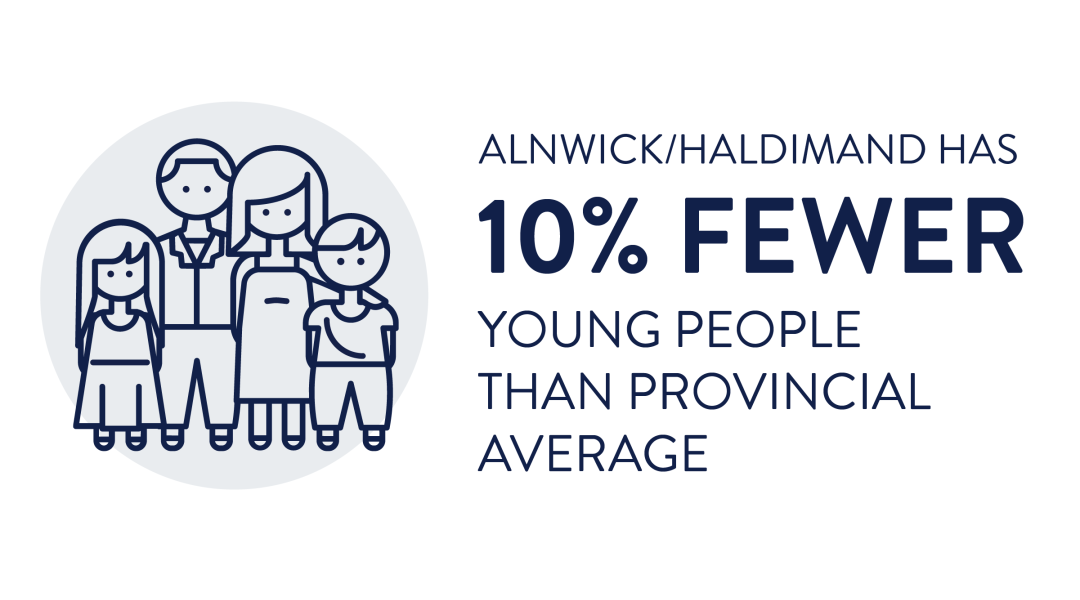 The Effects of the COVID-19 Pandemic
The pandemic has had huge impacts on the way we live. One of the hard-learned lessons is the vulnerabilities seniors faced as members of the community who were disproportionately affected by the pandemic. Communities must be equipped to support their population as they grow up, and grow old.

Ageing-In-Place
Studies show that most people prefer to remain in their home as they age. This is called ageing-in-place. Ageing-in-place requires a home in which they can live safely and independently for years to come. For this to be possible, their home must account for inevitable changes in mobility. It must be accessible, and the community in which they live should be designed to encourage connection with neighbours and allow seniors to keep the friends they've made in their community. Rural townships often have a shortage of smaller units or properties that can easily be maintained by seniors as they age. This leads to seniors having to relocate to other municipalities to be closer to their children, or having to move into long-term care facilities.


How Lakeport Beach Will Help Support Seniors
The Lakeport Beach proposal is designed for people of all ages. It has been designed with the knowledge that locals want to be able to age-in-place in their communities. It's imperative that new communities include units that appeal to downsizers, empty nesters, and active seniors who no longer want, or are able, to own and maintain a large home/property. Accessible unit types, a walkable design, and homes that result in a variety of age-groups living in the same neighbourhood ensure Lakeport Beach will be a vibrant community for all.

Landlab would like to offer three housing types to accommodate an older population:
Bungalows

1-storey cottages

Ground floor seniors' units
We envision a ground level senior's complex by the lakefront that would contain one- and two-bedroom units with their own kitchens, bathrooms, and garden spaces, and that would have shared covered hallway access to communal spaces in the complex. This would mean that residents could live independently, while pooling resources through a homeowners' association or other mechanism to have support from onsite healthcare workers, and recreational spaces. This complex would be located by the lake, in the heart of the community, so they would be surrounded by a community of varying ages to prevent isolation.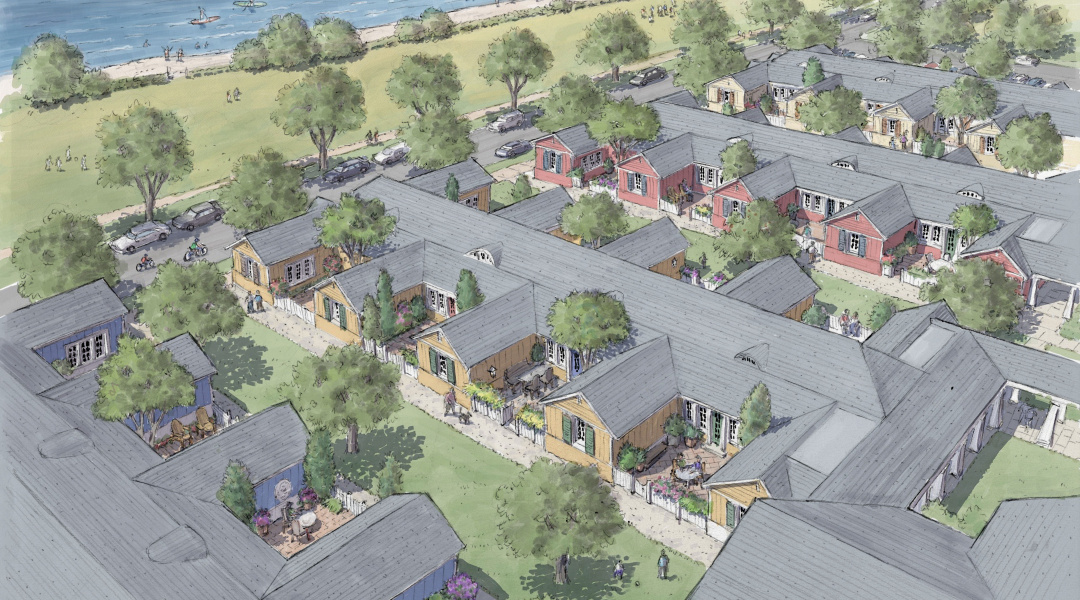 We have demonstrated our commitment to creating neighbourhoods that allow seniors to flourish at projects like our Hendrick Farm neighbourhood. We have offered several models of bungalows, as well as accessible homes, that many seniors and retirees have chosen to call home. The urban design has also resulted in a neighbourhood steeped in community spirit, where interested residents regularly host community events and initiatives for all.

"When we decided that our home wasn't going to allow us to age well, we began looking at bungalows. What a depressing venture! Every house seemed dark because integrated garages resulted in a lack of window space. We drove to Hendrick Farm on a whim, and were immediately taken with the use of colour. Then we noticed the number of windows, and knew these houses would be light-filled. Our first question was whether the builders could make an accessible home, and we appreciated their help to make it so. Now, we enjoy our days with bright rooms, birdsong, and plenty of kid-laughter from the park in front of our home. Not only should we be able to stay in our home well into our old age, active living is encouraged and modelled in a way we hadn't known before. We are so glad we moved here." — Martin and Crystal, homeowners in Landlab's Hendrick Farm neighbourhood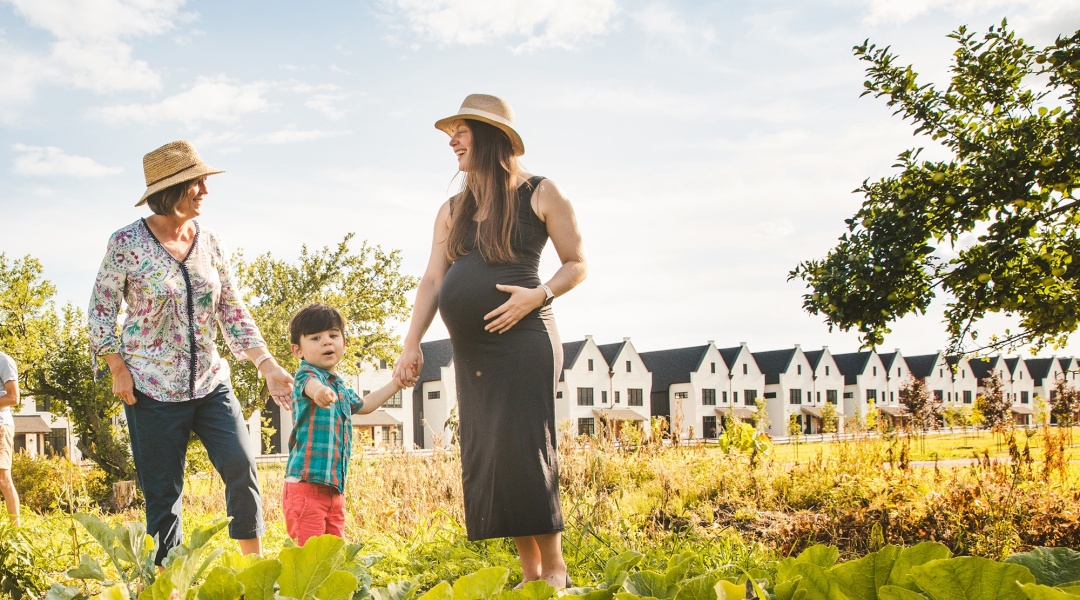 Lakeport Beach—A World of Benefits
Lakeport Beach will not only provide a place for all ages to grow up, and grow older, it also will provide more revenue to the Township, allowing for the option of greater investment in public services. An older population relies more heavily on services such as healthcare, housing, recreation facilities, libraries, etc.

The property tax dollars raised by Lakeport Beach, as well as the annual surplus it will generate relative to costs (the Township will receive more property taxes than it needs to spend on services), will help ensure that the community amenities and social infrastructure that an older population relies upon will be properly funded by a growing property tax assessment base. In addition, new neighbourhoods like Lakeport Beach that are walkable, community-oriented, and offer outdoor spaces and amenities tend to attract young professionals like doctors, dentists, physiotherapists, etc. who are desperately needed to help care for ageing citizens.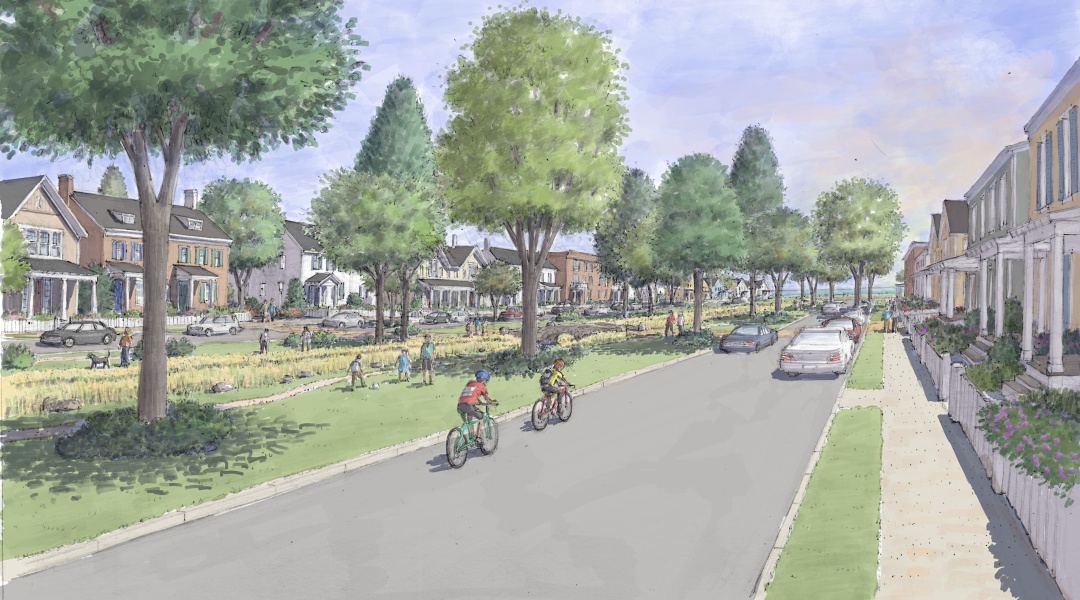 It is incredibly important that Alnwick/Haldimand takes steps to better support their ageing population—the Township needs better access to housing and infrastructure services to support residents. The Lakeport Beach community is designed with seniors at heart and has strategies built into its plan to mitigate current challenges.