Lakeport Beach—Good News for Taxpayers, Businesses & Local Services
published May 4th, 2022
At both our townhall meeting on March 22nd, 2022 and online, we've received many questions from residents of the Township about the economic impacts of the Lakeport Beach project. While the full Fiscal Impact Study done by Altus Group has been posted here (on the Documents page of our website) since we launched the website, we thought we'd take a moment to break it down into more digestible bites for those wanting to know more.
The good news? It's all good news. Those worried about the project being a burden on existing taxpayers have nothing to worry about. Let's dive right in.
DEVELOPMENT CHARGES + PROPERTY TAXES
The Lakeport Beach development will provide Alnwick/Haldimand and Northumberland County with up-front revenue through development charges (DCs). These charges will total $10,500,000.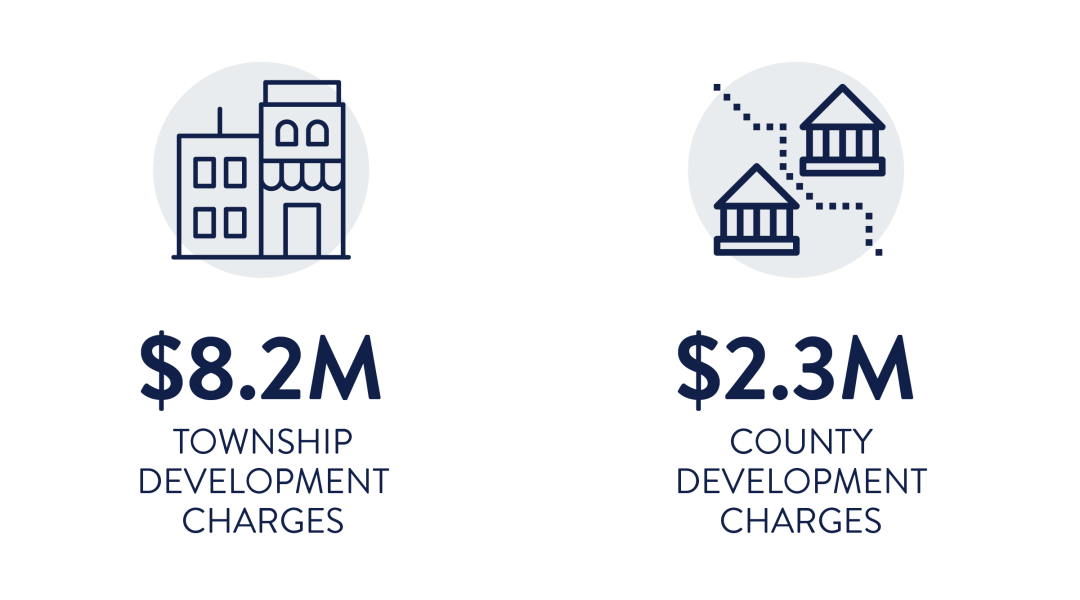 This is brand new revenue that is paid to the Township and County before shovels are even in the ground. These charges can be used by the Township and County to improve or expand a variety of services including but not limited to:

Roads

Recreation centres

Libraries

Public works

Fire protection & policing
The study also looks at the taxes that will be generated by the new homes, as well as the cost to service those homes and their owners. Based on an average home sales price of $700,000 (home prices will likely range between $400,000 and $1,200,000), and corresponding assessment values, the Lakeport Beach development would create $371,200,000 in new assessment values.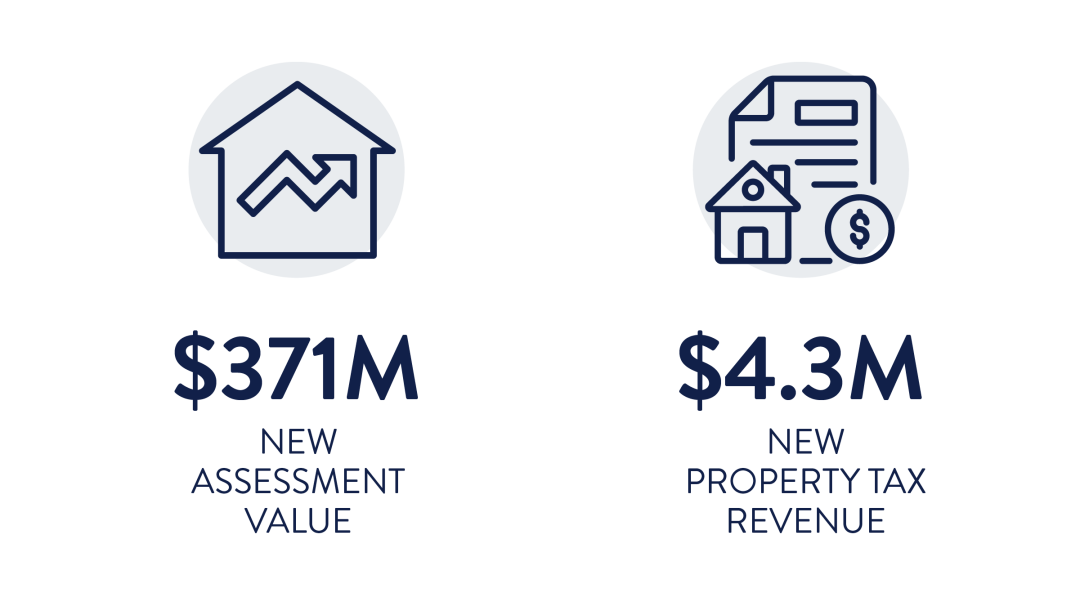 What this means is that the Township will receive an additional $1,972,300 in tax revenue per year, and the County will receive $1,756,000 in new tax revenue annually. When combined with education taxes, the Lakeport Beach will generate an additional $4.3 million in property tax revenue every year.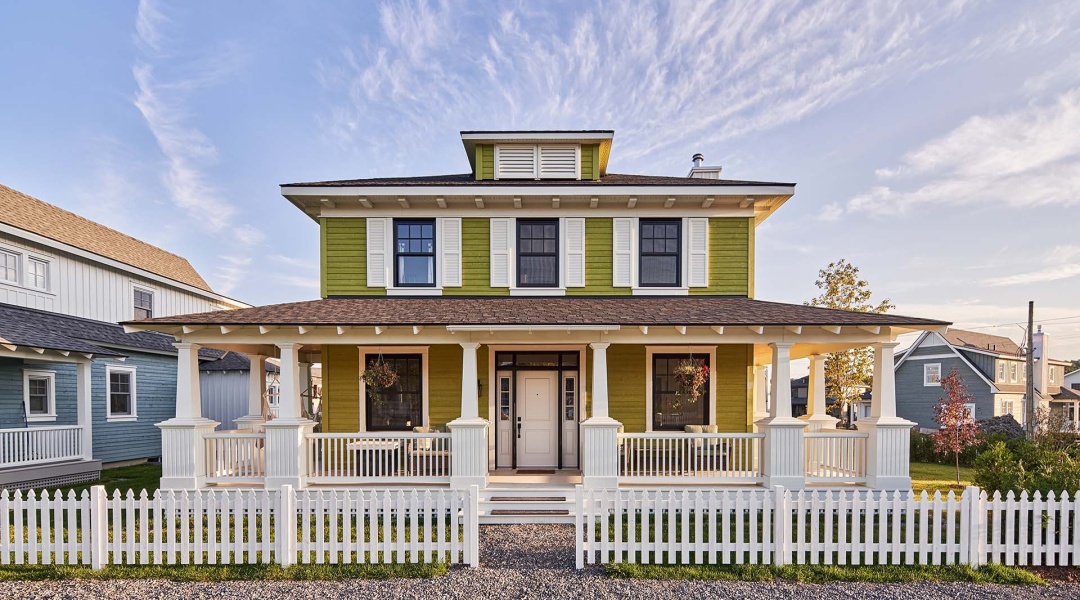 But what does this actually mean for other taxpayers in the Township? Lakeport Beach will not cost existing ratepayers more. In fact, Lakeport Beach will be a net financial contributor for both the Township and County, meaning that it will generate more tax revenue than it costs to service. How can we know this? By using the Township's own budget. Based on current Township expenditure per household, the estimated soft service operating costs to Alnwick/Haldimand will be $626 per capita for the Lakeport Beach project. However, based on assessment values, the project will generate $1,119 per capita in property taxes each year. That means that the project will generate an amount 79% greater than it costs to service. The Township could use this extra revenue to improve services to all residents of Alnwick/Haldimand or even to mitigate future property tax increases.
WATER & WASTEWATER SYSTEMS
Many residents have asked questions about the type of water and wastewater systems that will be used at Lakeport Beach and, more importantly, who will be paying for them. At the heart of the matter is this: Lakeport Beach will not increase the number of wells or septic fields in the Township, nor will current taxpayers be on the hook for the system.
Landlab is proposing onsite municipal class water & wastewater systems. Management of community water and wastewater management systems is heavily regulated by the Province of Ontario. Water and wastewater systems likes this actually return water significantly cleaner than it comes in and they are very common. The upfront costs of building these systems will be borne solely by Landlab and will not be a cost to existing residents.
But who pays for upkeep and maintenance once Landlab is gone? The annual operating costs for the systems will be $569,600 and the annual lifecycle contributions (let's call them replacement contributions, since these ensure there is full funding for replacing the system at the end of its life) will be $256,500. These costs will be borne by users of the system only via their water/sewer bills. Will this be affordable for homeowners? Absolutely.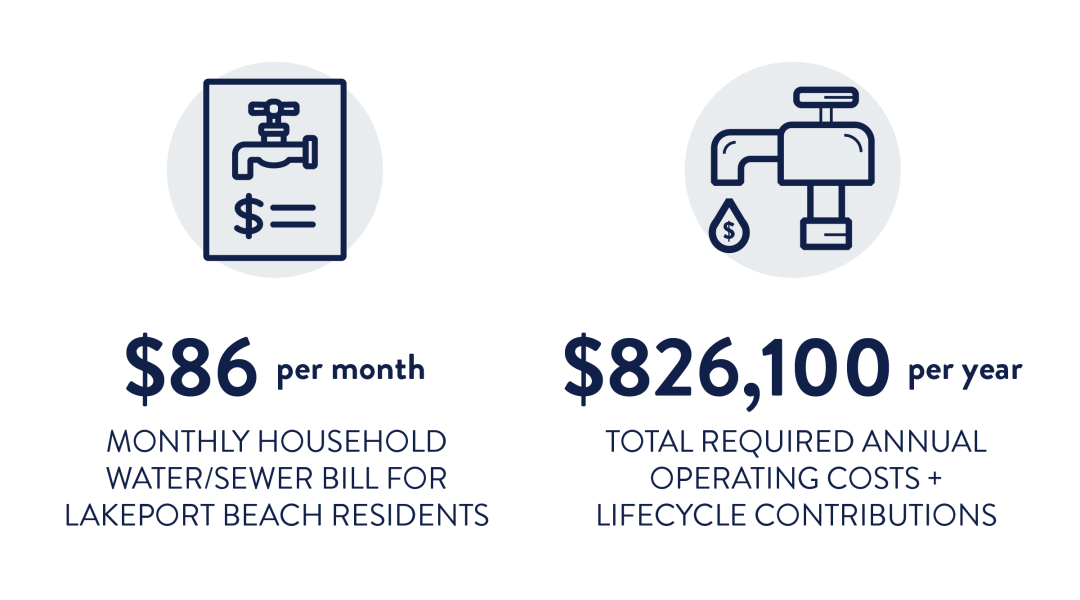 In total, the annual operating costs and replacement contributions for the water and wastewater systems will be approximately $826,100. When these costs are divided by the number of units in the Lakeport Beach plan, the costs per unit amount to approximately $1,033 per year. This means that the average monthly water/sewer bill for each household in the Lakeport Beach development will be approximately $86 per month. This amount will fully cover the ongoing operation and maintenance as well as the replacement cost of the systems. No costs or user fees will be borne by existing Alnwick/Haldimand residents.
AN AGING POPULATION
Since 2001, the number of older people in the County and Township has increased significantly. While the proportion of people aged 45 or younger in the Province sits at about 55% of the population, in Alnwick/Haldimand it's down to only 45%. The significant aging of the population in this area means that the 'young professional' labour force (ages 25-44) has shrunk dramatically. This has a huge impact on the ability of the community to fill professional service roles (doctors, dentists, etc.) and many residents have already raised this concern. An older population also places additional strain on public services more heavily relied on by seniors, such as health, housing, recreation facilities, libraries, etc.

At a minimum, the property tax dollars raised by Lakeport Beach as well as the annual surplus it will generate relative to costs (the Township will receive more property taxes it needs to spend on services), will help ensure that the community amenities and social infrastructure that an older population relies upon will be properly funded by a growing property tax assessment base. But in addition to this, new neighbourhoods like Lakeport Beach that are walkable, community-oriented, and offer outdoor spaces and amenities tend to attract young professionals like doctors, dentists, physiotherapists, etc. We've seen this in other Landlab developments, where residents have opened new practices that are serving the broader community.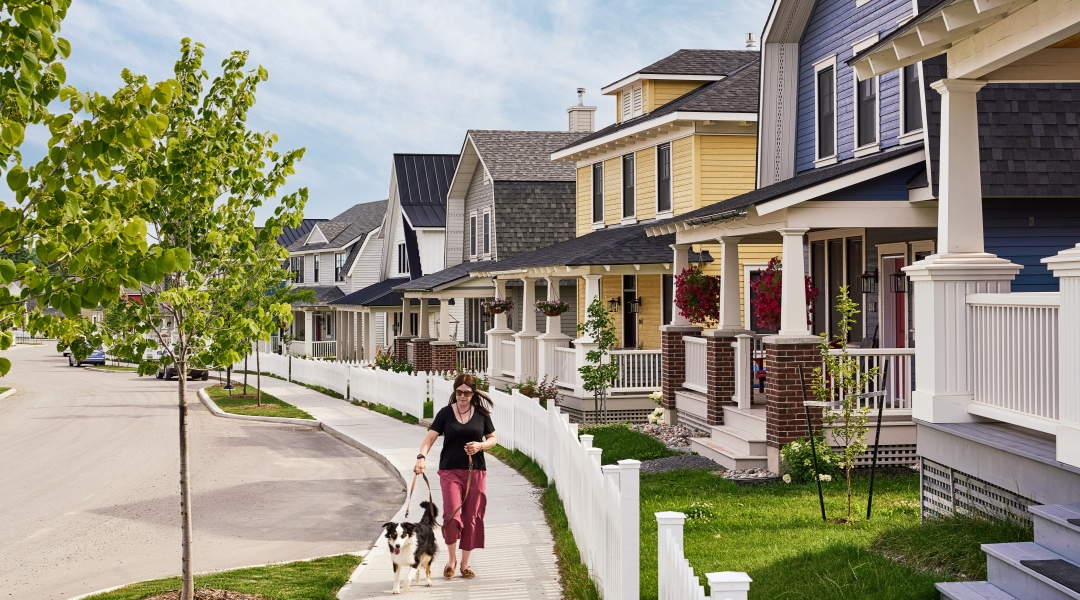 LOCAL SPENDING
Buyers of newly built homes spend about $4,500 over the first two years on furnishings, appliances, decoration, and miscellaneous home improvements. This means the new households in Lakeport Beach will spend approximately $3.6 million in the early stages of taking possession of their new homes.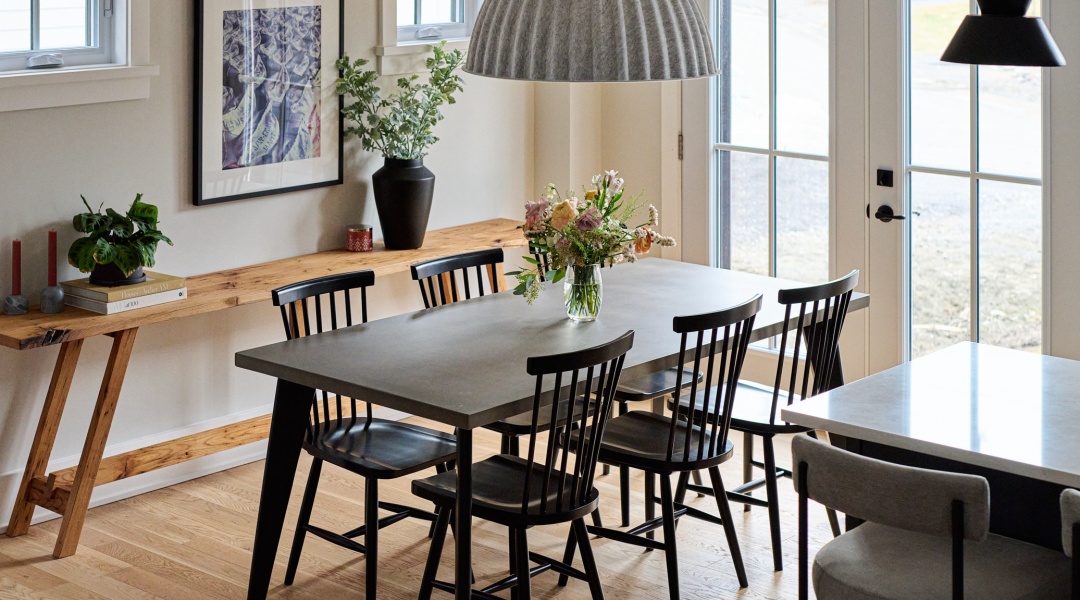 Beyond that initial spending amount, though, the residents of Lakeport Beach will continue to help support local retail stores and businesses through daily and regular purchases of goods and services. Household spending on goods and services in Canada averages approximately $49,000 per year according to Statistics Canada. This includes spending on food, household operation, furnishings and equipment, clothing, healthcare, recreation, etc. Based on this, residents of Lakeport Beach can be expected to spend about $39.5 million per year on goods and services, and a significant portion of this spending can be expected to be done at stores, businesses, and service providers in the Township and County. That is a large influx of money that will help boost current local businesses, while also allowing for new businesses and service providers to open up shop.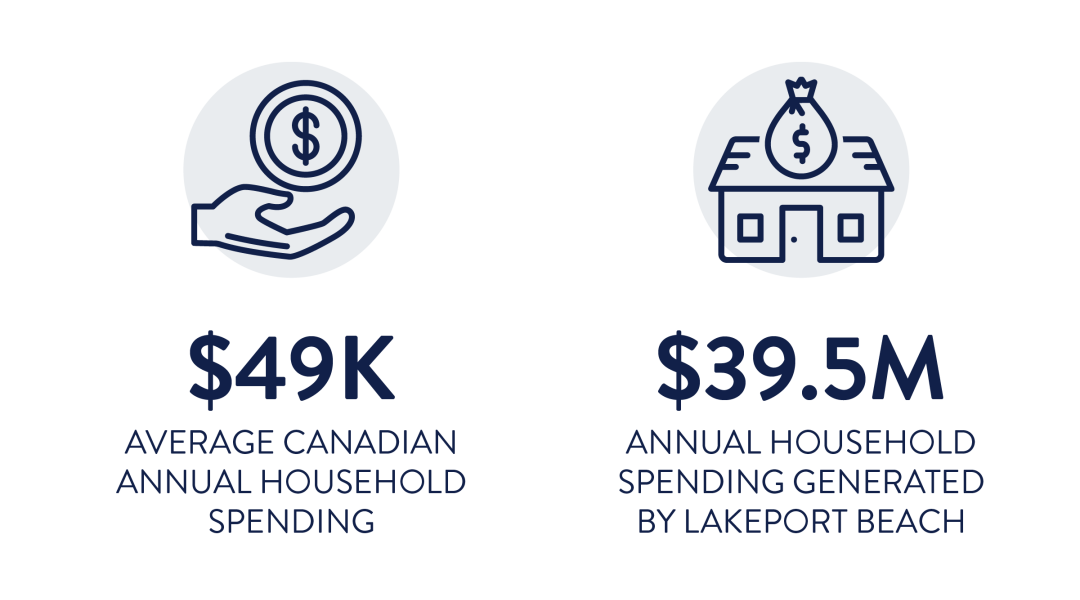 KEY TAKEAWAYS
Lakeport Beach is great for the local economy, and will not be a burden on existing taxpayers.
The project will be a net financial contributor, meaning that it will generate more tax revenue than it costs to service.
Existing taxpayers will not be on the hook for the operation, maintenance, or replacements costs for the water & wastewater systems. Those buying homes at Lakeport Beach will cover these costs with an affordable $86 per month water/sewer bill.
The property tax dollars raised by the development will help ensure that the community amenities and social infrastructure that an older population relies upon will be adequately funded by a growing property tax assessment base.
Lakeport Beach will generate substantial support for existing businesses.
Lakeport Beach is a good news story. If you want to dive into the numbers themselves and look more closely at how they were calculated, we highly encourage you to read the Fiscal Impact Study located on the Documents page of our website.